reMarkable Business Digital Planner
$16.00
A fully hyperlinked PDF Digital Planner for 2023 & 2024, specifically designed for reMarkable 2 & 1.
(Compatible with Kindle Scribe and Supernote devices)
1 – CONTENTS
This purchase includes a PDF planner file of 1100 linked pages, which contain the below sections:
>a. Full Year Interactive Calendar (1 page)
>b. Monthly Overview (12 pages)
>c. Weekly Planner (53 pages)
>d. Daily Planner + extra notes page (730 pages)
>e. To Do section (2 pages)
>f. Meetings (100 pages + index page)
>g. Lists (100 pages + index page)
>h. Notes (100 pages + index page)
Additionally, it includes a cover page which helps the file to stand out among other documents on your reMarkable folder view.
There are no physical products to be shipped in this listing. This is a pure digital download.
2 – SPECIFICATIONS
The planner is specially designed to fit exactly on the Remarkable 2 screen of 1872×1404 resolution (226 DPI). Both reMarkable 1 and 2 share the same screen resolution, so the files are fully compatible with reMarkable 1, as long as the device has been updated to version 2.6.x.x.
The empty planner file is very light (approximatelly 3.7MB).
3 – DOCUMENT STRUCTURE
The files are designed for right-handed and left-handed reMarkable settings. When the toolbar is open, the visuals of the monthly overviews will be covered, and will not obstruct the active page area.
4 – HOW TO IMPORT
The PDF files can be imported in the reMarkable through the official reMarkable APP as any PDF file.
Great Planner
My favorite part of the planner is the way that it can jump around between dates and lists. The only thing I would recommend updating is that when I try to add a third "To Do" page, it is blank and doesn't pull the "To Do" template with it for additional pages past page 2 of the To Do list.
DPB Meets my expectations
Templates für reMarkable 2
reMarkable Business Digital Planner
reMarkable Business Digital Planner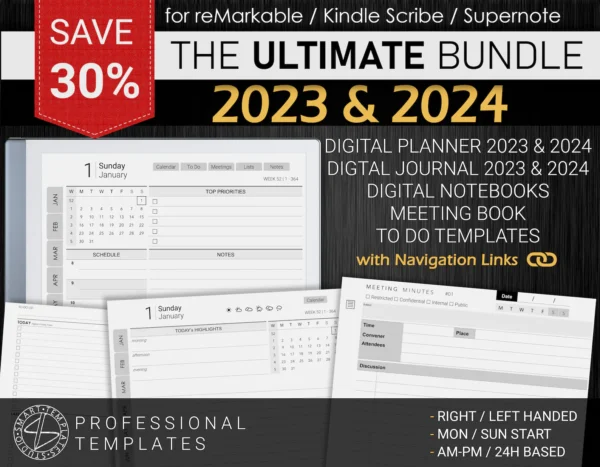 reMarkable Business Digital Planner
$

16.00