Digital Planner : All-In-One 2023 & 2024
£13.89
Discover the Joy of Planning and Goal-Setting with the All-In-One Digital Planner
In a world overwhelmed with tasks, appointments, and personal growth pursuits, achieving clarity can seem elusive. Enter the All-In-One Digital Planner, designed to be your unwavering ally in your pursuit of excellence.
As seen on CNN, Rollingstone Magazine, and Paperlike, this digital planner isn't just another productivity tool. It's a testament to innovation, design, and functionality that caters to every aspect of your life. Its creation has been expertly crafted to elevate productivity, drive goal achievement, and harmonize life balance.
Are you tired of disconnected apps and uncoordinated physical planners? Embrace a personalized planning experience, tailored to your unique organizational style, with our intuitive and customizable digital planner.
Unleashing the Potential Within
The All-In-One Digital Planner transcends traditional planning by bringing a multifaceted approach to organizing life. From finances to fitness, personal development to entertainment, it's designed to cater to modern needs with an elegant, user-friendly interface.
Take control of your life today with the All-In-One Digital Planner, a product that embodies innovation, convenience, and sophistication. Whether you're a seasoned planner or new to digital planning, this tool will surely become an indispensable part of your daily routine, propelling you towards success.
Join countless satisfied users in the journey towards a more organized, fulfilled life. The All-In-One Digital Planner awaits you – it's time to plan with purpose!
Magnificent
See ,
I have explored multiple digital planner & I could say , those who are so serious about your future & if you spend time for it. I recommend this planner 100%
They have all the process & programmes those who want to programme their life in a Sucessfull way
Bravo
perfect
Great planner. Simple to install into GoodNotes on my iPad, and very versatile in planning options. Love it.
Solid planner. Simple design, easy to use, does its job. No complaints.
Perfect
It has everything I need. Easy to use and the templates are very useful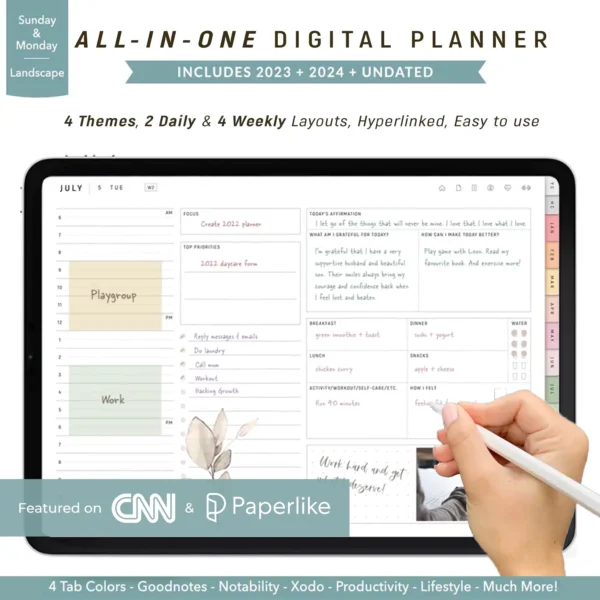 Digital Planner : All-In-One 2023 & 2024
£

13.89