Brain Games for E-Ink Devices
$12.00
A Puzzle Game Bundle for E-Ink Devices.
Immerse yourself in a universe of intellectual exploration with our Brain Games Puzzle Bundle, meticulously crafted for E-Ink devices including reMarkable, Kindle Scribe, Boox, and Supernote. This interactive, high-quality digital download is your gateway to over 500 mind-stimulating puzzles that challenge, entertain, and invigorate your brainpower!
Our Brain Games collection introduces you to five distinct and captivating puzzle types: Word Search, Sudoku, Mazes, Crossword, and Kakuro. Each category is loaded with 100 unique puzzles, providing an inexhaustible resource of brain training and entertainment. All the puzzles are neatly organized in a clickable PDF format for effortless navigation.
These engaging puzzles serve a dual purpose: they not only provide hours of fun but also stimulate various cognitive abilities. Fine-tune your logic skills with Sudoku, broaden your vocabulary with Crosswords, or enhance spatial reasoning with Mazes. This bundle is the perfect amalgamation of entertainment and cognitive development, making it an ideal present for yourself or a loved one who relishes a good mental workout.
Are you ready to test your wits and embark on an exhilarating journey of brain fitness? Delve into the Brain Games Puzzle Bundle today. This isn't just a purchase; it's an investment in unending fun and learning.
Please note: Although primarily designed for E-Ink devices, this product is also compatible with iOS and Android tablets.
Brain Games for E-Ink Devices
Brain Games for E-Ink Devices
Brain Games: A Puzzle Bundle for E-Ink Devices
really cool, unique offer. I'm enjoying it.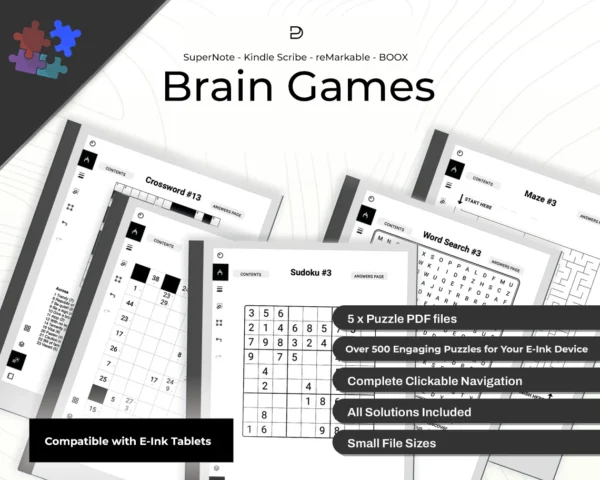 Brain Games for E-Ink Devices
$

12.00